Robert B. Gilbreath
Texas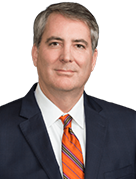 Hawkins Parnell & Young LLP
4514 Cole Avenue
Suite 1225
Dallas, TX, 75205
Tel: 214.780.5114

Email:

rgilbreath@hpylaw.com
Web:

www.hpylaw.com
Rob Gilbreath leads the firm's appellate group. He has handled more than 200 appeals in a wide variety of areas, including trust and estates, personal injury, breach of contract, breach of warranty, breach of fiduciary duties, fraud, insurance coverage, family law, oil and gas, contempt of court, arbitration, government regulation, defamation, RICO, shareholder oppression, and Lanham Act false advertising claims.
In addition to handling cases in the appellate courts, Rob assists with error preservation, complex motions, and pleadings in the trial courts. He often attends trial to help litigators preserve error, particularly in the jury instructions/court's charge. He has been responsible for preserving error in numerous high-dollar, complex cases, including one where the jury's verdict exceeded $4 billion and two where the jury's verdict exceeded $300 million.
Rob has handled or assisted with appeals and original proceedings in Texas, Arizona, California, Colorado, Florida, Georgia, Illinois, Kentucky, Louisiana, New Hampshire, New York, Pennsylvania, and South Carolina; the United States Courts of Appeals for the Second, Third, Fifth, Ninth, and Eleventh Circuits; and the United States Supreme Court. He has argued over 100 cases before the Fifth Circuit, the Eleventh Circuit, the Supreme Court of Texas, the New York Court of Appeals, the New York Supreme Court Appellate Division, First Department, the Arizona Supreme Court, the Delaware Supreme Court, the Georgia Supreme Court, Pennsylvania's court of appeals (the Superior Court), the Georgia Court of Appeals, the Florida Court of Appeals, the Louisiana Court of Appeals, and most of the fourteen intermediate appellate courts in Texas.
Rob has prevailed in numerous important cases in the Texas Supreme Court. For example, in 2014 the Court issued a landmark decision on shareholder oppression claims. Ruling in favor of Rob's clients, the Court held that there is no common-law claim for shareholder oppression, narrowly redefined "oppression" for purposes of statutory oppression claims, eliminated the buyout remedy for statutory oppression claims, and rendered judgment that the plaintiff take nothing on her shareholder oppression claim. The decision has been called the most important decision of the Texas Supreme Court's 2013-2014 term. In 2011, Rob's successful representation in the Texas Supreme Court of a client accused of contempt earned him a front-page story in the Texas Lawyer newspaper. In 2016, his win in the Texas Supreme Court for a client whose settlement proceeds were stolen by her lawyer also earned him a front-page story in the Texas Lawyer. And his 2009 Texas Supreme Court victory for a large home builder client seeking insurance coverage was also covered by the Texas Lawyer as a groundbreaking development in the law.
Hawkins Parnell & Young's appellate group specializes in appellate advocacy, complex legal issues, and scientific briefs. The group has expertise in all phases of litigation, from summary judgment to mandamus proceedings and appeals across all practice areas. Our team serves clients in both the federal and state appellate courts. We have appealed cases across a wide range of legal fields, including business torts, defamation, arbitration, class actions, securities, banking, personal injury, gas and oil, employment, insurance, family law and media.
Hawkins Parnell & Young is a national defense litigation firm that has represented many of the largest and most well-known companies in high-risk litigation and business disputes. The 250-strong litigation team works with clients to develop winning defense strategies and, if necessary, try cases to verdict in all 50 states.