Michael B. Terry
Georgia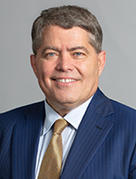 Bondurant Mixson & Elmore LLP
1201 West Peachtree Street NW
Suite 3900
Atlanta, GA 30309
Tel: 404.881.4108

Email:

terry@bmelaw.com
Web:

www.bmelaw.com
Mike Terry handles complex commercial and appellate matters, as well as class actions. Over the past 20 years, his practice has focused heavily on appellate litigation, particularly in the areas of class actions and punitive damages. He is a Fellow of the American Academy of Appellate Lawyers, an organization founded to advance the highest standards and practices of appellate advocacy and to recognize outstanding appellate lawyers. Mike has published three books and numerous articles on appellate practice.
Mike was recognized as the Lawyer of the Year for Georgia (2021) by American Lawyer Media and by the Fulton County Daily Report. Mike has been recognized as a Georgia "Lawyer of the Year" by Best Lawyers five times, most recently in 2021, in three subject matter areas (Appellate Litigation, Antitrust Litigation, and Banking Litigation). He has been a Top 100 Georgia "Super Lawyer" for the last 15 years.
Mike argued and achieved a 7-0 victory before the Georgia Supreme Court in a landmark challenge to the constitutionality of the state's caps on pain and suffering damages in medical malpractice cases. In 2020, Mike argued and achieved a victory before the Georgia Supreme Court in a $46 million dollar medical malpractice case.  In 2018, Mike argued and obtained a unanimous victory before the Georgia Supreme Court for a class of 12,000 teachers alleging improper elimination of retirement plan contributions from the school district.  In 2016, Mike argued and achieved a 7-0 reversal of the denial of class certification for a class of 800,000 consumers alleging they had been charged usurious fees by their Bank.  In 2015, Mike was selected by the Council of State Court Judges of Georgia to represent that body in a successful Georgia Supreme Court challenge to actions taken by Georgia Judicial Qualifications Commission. Mike received the inaugural "Guardian of Justice" Award from the Council of State Court Judges in 2017.
Mike served as President of the Atlanta Bar Association in 2010-2011, where he set a focus on judicial funding and services for lawyers in transition. In 2019, Mike received the Charles Watkins Award for lifetime service to the Bar, the highest award given by the Atlanta Bar Association.  Mike also served as President of the charitable Atlanta Bar Foundation in 2018-2019.  Mike is currently on the Board of Directors of the Atlanta Bar Association, the Board of Governors of the State Bar of Georgia, and the House of Delegates of the American Bar Association.
Mike is a frequent lecturer and author on business litigation topics including class actions, punitive damages and appellate issues. He is also often asked to moderate debates and panel discussions involving judges.
Our appellate practice serves clients we have represented at trial, as well as clients who hire us to handle the appeal exclusively. We have achieved successful outcomes in many of the largest appellate cases, both plaintiffs and defense, in the history of the state of Georgia.
The firm's strength in this area is bolstered by the fact that virtually all of our partners and associates have served as judicial law clerks. Our lawyers have held clerkships at the Fourth, Fifth, and Eleventh Circuit Courts of Appeals, as well as federal district courts in Georgia, Alabama and Ohio.
Representative Work
Successfully reversed on appeal a $457 million judgment in a contractual dispute over whether our client, Weyerhauser, had agreed to indemnify Paragon Trade Brands for a patent infringement claim. 

Successfully defended a $281 million jury verdict before the Georgia Court of Appeals for our client, David McDavid, in a breach of contract suit against Turner Broadcasting for the sale of two professional sports franchises and the operating rights to a sports arena. 

Successfully defended a $454 million judgment the firm obtained against Time Warner in appeals to both the Georgia Supreme Court and the United States Supreme Court, where we argued against former Solicitor General Ted Olson. 

Obtained the reversal of an intermediate appellate decision certifying a class action seeking a $110 million recovery under the federal Telephone Consumer Protection Act. 

On appeal, successfully defended certification of a class of insureds in an action against a credit life insurer. 

Obtained the dismissal of four putative class actions against not-for-profit hospitals challenging the hospitals' pricing policies, and appeared as lead appellate counsel for the hospitals in affirming those decisions on appeal. 

Successfully defended an award of $16.6 million to seven employment discrimination plaintiffs before the United States Court of Appeals for the Eleventh Circuit. 

Successfully represented Farley Industries in a dissenters' rights case before the Georgia Supreme Court, which has become the seminal case on dissenters' rights in Georgia. The Georgia Court of Appeals resolved two questions of first impression in Georgia in favor of our clients.
Bondurant Mixson & Elmore LLP is a litigation firm located in Atlanta, GA. The firm has a 40-year track record of successfully litigating and trying some of the toughest and most complex business cases in the United States.
The firm is widely recognized as a litigation powerhouse. It has been rated one of the top 10 litigation boutiques in the country by National Law Journal and consistently receives the highest rankings from Chambers USA as one of the top litigation firms in Georgia.
Our clients look to us when they face complex legal issues that require skilled and experienced advocates. We take pride in handling our clients'​ most important cases. Our success in these matters is based on our deep talent, experience trying cases to judges and juries, and the lessons we have learned in more than four decades representing both plaintiffs and defendants.