Marion M. Reilly
Texas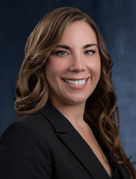 Hilliard Martinez Gonzales, LLP
719 S. Shoreline Blvd.
Corpus Christi
Texas, 78401
Tel: 361.882.1612

Email:

marion@hmglawfirm.com
Web:

www.hmglawfirm.com
Marion brings valuable experience in appellate matters to the team at Hilliard Martinez Gonzales, LLP. She also handles complex civil and multi-district litigation, personal injury and wrongful death cases. She has argued numerous times before the United States Court of Appeals for the Fifth Circuit and the United States Court of Appeals for the Eighth Circuit. She has briefed cases at the United States Court of Appeals for the Ninth and Tenth Circuits. She also briefed numerous matters before the United States Supreme Court, and on one, the US Supreme Court accepted the appeal and granted oral argument in Feb. 2017.
Prior to joining our team, Marion Reilly served as a judicial intern for the Honorable Emilio M. Garza of the United States Court of Appeals for the Fifth Circuit. She wrote bench memoranda for cases with oral arguments before the court and researched and drafted numerous civil and criminal opinions. Ms. Reilly also served as a judicial intern for the Honorable Rebecca Simmons of the Texas Fourth Court of Appeals in San Antonio.
Marion Reilly received her Juris Doctor degree from St. Mary's School of Law in 2011. She graduated Magna Cum Laude and was inducted into St. Mary's distinguished John M. Harlan Society, an honorary organization that recognizes students who have excelled academically and graduate in the top 10% of the class.
While at St. Mary's, Ms. Reilly competed in numerous Moot Court competitions and was named a National Champion at the Emory Civil Rights and Liberties Moot Court Competition and State Champion at the Federal Bar Association's Moot Court Competition.
During her last year of law school, Ms. Reilly was inducted into the National Order of Barristers and received the Patricia L. Scott Award, which is reserved for St. Mary's most outstanding advocate. She received a dual bachelor of arts degree in legal studies and politics/international relations from Scripps College in California, where she frequently made the Dean's List. Marion was named a Texas Rising Star in 2017, 2018 and 2019. She was named the Outstanding Young Lawyer of the Year in 2018.
Marion is licensed by the State Bar of Texas, the State Bar of Michigan, the State Bar of New York, and the State Bar of New Mexico. She is admitted to practice before the United States Northern, Southern, and Western District Courts of Texas, the Supreme Court of the United States, and the 5th Circuit, 8th Circuit, and 9th Circuit Court of Appeals.
EDUCATION
JD 2011, St. Mary's School of Law, San Antonio (Magna Cum Laude)
BA 2009, Scripps College
PROFESSIONAL ASSOCIATIONS & ACCOLADES
Texas Rising Star award: 2017, 2018, 2019
Outstanding Young Lawyer of the Year: 2018
Adjunct Professor at St. Mary's University School of Law
American Bar Association
Phi Delta Phi Legal Fraternity
The National Order of Barristers
St. Mary's School of Law Young Alumni Council "10 Under 10" Honoree
Texas Trial Lawyers Association
William S. Sessions American Inns of Court
BAR & COURT ADMISSIONS
Texas State Bar, 2011
Michigan State Bar
New York State Bar
New Mexico State Bar
United States District Courts: Northern, Southern and Western Districts of Texas
Supreme Court of the United States
United States Courts of Appeal: 5th Circuit, 8th Circuit and 9th Circuit
Hilliard Martinez Gonzales LLP has been successfully representing clients in the United States and Mexico since 1986. Our experienced, tenacious legal team has earned a national and international reputation for taking on large, powerful, wealthy companies and bringing them to justice for causing personal injury or wrongful death. Our reputation is so well known that often a corporation will agree to a fair settlement rather than go to court against us.
If you or a loved one have been harmed by negligence, unsafe/defective products or a car or truck crash with a company vehicle, we can help you fight for rightful compensation. We will focus on you and your story, explaining your experience to the jury in a way that makes it clear to them what you have suffered and how the responsible party wronged you. We will apply this simple, powerful approach when advocating for you.
HMG is equally as experienced and successful with commercial and contract cases involving unfair business practices, including major class action lawsuits against national and international corporations.