Kenneth J. Bartschi
Connecticut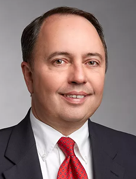 Horton, Dowd, Bartschi & Levesque, PC
90 Gillett Street
Hartford, CT 06105
United States
Tel: (860) 522-8338

Email:

kbartschi@hdblfirm.com
Web:

www.hdblfirm.com
Attorney Bartschi joined the firm in 1996 and became a principal in 2000. He has an active appellate practice, with cases in the Connecticut Appellate and Supreme Courts.  He has handled a number of appeals that have shaped the state of the law in Connecticut today.
In addition to his practice, Attorney Bartschi is active in the legal community. He is a frequent lecturer and writer on appellate practice. He regularly presents the Supreme Court Review with Karen Dowd at the Connecticut Legal Conference, sponsored by the Connecticut Bar Association (CBA).
He is co-author of West's Annotated Connecticut Rules of Appellate Procedure and The Connecticut Practice Book Annotated, as well as the Connecticut Appellate Review, which appears annually in the Connecticut Bar Journal, and MCLE New England: a Practical Guide to Divorce in Connecticut.
He serves on the executive committees of the Appellate Advocacy and LGBT Sections of the CBA. He served as member of the Board of Directors of the Connecticut Women's Education and Legal Fund and was co-chair of the Human Rights and Responsibilities Section. Like many of the other attorneys at the firm, Attorney Bartschi is also involved in legal education. He has served as a faculty member at the Appellate Advocacy Institute of the Connecticut Bar Association since 2004.
Unlike some other firms which have recently formed appellate practice groups, Horton, Dowd, Bartschi & Levesque, P.C. has handled appellate and trial litigation throughout its 40 year history.  Attorneys in the firm have argued, briefed amd consulted on hundreds of cases in the Connecticut Appellate and Supreme Courts.  We have also argued matters before the Second Circuit Court of Appeals.  Attorney Wesley Horton successfully argued Kelo v. New London before the United States Supreme Court in 2005.
Every lawyer in the firm handles appeals before the Connecticut Appellate and Supreme Courts in a full, diverse range of areas including constitutional law, contracts, construction law, personal injury, products liability, family law, real estate, criminal, and juvenile law.  The firm's cases include reversal of multi-million dollar verdicts, such as the $30 million verdict in Glazer v. Dress Barn.  Members of the firm were also instrumental in obtaining the reversal of a $40 million verdict in Pelletier v. Sordoni/Skanska Construction Company.  Cases handled by the firm have shaped the substantive law on family law, civil rights, eminent domain and procedural law. The firm has influenced the procedure for handling appeals through its cases.
Perhaps the greatest endorsement of our appellate practice is the fact that other lawyers refer their clients to Horton, Dowd, Bartschi & Levesque, PC.