James Kennedy
New York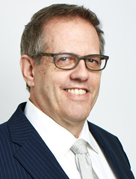 Kennedy Berg LLP
401 Broadway, Suite 1900
New York, NY, 10013
United States
Tel: (212) 899-3410

Email:

jkennedy@kennedyberg.com
Web:

www.kennedyberg.com
An accomplished trial and appellate lawyer, Jim Kennedy has won hundreds of millions of dollars for his clients, including large businesses and entrepreneurs, and successfully defended clients in significant commercial matters. His diverse background includes disputes involving business divorce, commercial contracts, fiduciary duties, fraud, patents, trade secrets and other intellectual property, commercial real estate, restrictive covenants, shareholder rights, and partnership obligations. Jim has also tried business disputes before domestic and international arbitration panels.
Early in his career, Jim gained unique, first-hand insight into the appellate process as Law Secretary to the Honorable Bernard S. Meyer, then Senior Associate Judge of the Court of Appeals of the State of New York. Jim is well versed in many aspects of appellate work at the state and federal level. He has argued before the Appellate Division of the Supreme Court of the State of New York, the Second Circuit Court of Appeals and other state and federal courts. His recent appellate victories involve the application of the doctrine of "income tax estoppel"; the viability of a "unique" claim that a buyer's representatives owed fiduciary duties to a seller while temporarily managing the seller's business prior to the closing of an asset sale; and the propriety of a trial court order piercing the corporate veil of several corporations and holding one of the defendants in contempt of court. He is widely respected both for his written and oral advocacy. Jim is admitted to the Bar of the State of New York, the United States District Courts for the Southern and Eastern Districts of New York, various United States. Courts of Appeal and the Supreme Court of the United States.
Pro Bono/Educational
Jim has for more than two decades provided significant pro support to Gibney Dance Company — a New York based non-profit organization that sponsors its own contemporary dance company, provides residency opportunities and badly needed space (at low cost) to the dance community, curates artistic performances by emerging artists held at its theatre and studios in Manhattan and has pioneered the use of movement to help domestic violence survivors to heal.
All N.Y. State Courts
United States District Court, Southern District of New York
United States District Court, Eastern District of New York
United States Court of Appeals for the Second Circuit
United States Court of Appeals for the Third Circuit
United States Court of Appeals for the Fifth Circuit
United States Court of Appeals for the Federal Circuit
Supreme Court of the United States
Kennedy Berg LLP is a boutique and entrepreneurial law firm of skilled and experienced trial and appellate lawyers. Our success in handling complex commercial cases against the nation's largest firms has taught us that we can best serve our clients by preparing every case as though it will be tried. Doing so increases the case's value, builds leverage for settlement and positions our clients to win at trial.
We handle a wide range of business litigation disputes, including contract, partnership, real estate, intellectual property, fiduciary duty, fraud and employment matters. Through early case assessment, we develop a litigation plan that positions a case for success at trial while also building opportunities for settlement. We use motion practice, where appropriate, to gain strategic advantages, not to increase legal fees. We are especially adept at preparing our clients to be effective witnesses in depositions and in open court.
Our firm is equally dedicated to achieving our clients' goals in a cost-effective manner. Our history has shown that small litigation teams and intensive partner involvement provide both a cost and strategic advantage over our larger opponents. We have the confidence to share in the inherent risks of litigation with our clients through flexible fee arrangements.