Jan I. Berlage
Maryland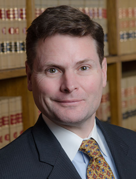 Gohn Hankey & Berlage LLP
201 N. Charles Street
Suite 2101
Baltimore, MD 21201
Tel: 410-752-1261

Email:

jberlage@ghsllp.com
Web:

www.ghsllp.com
Jan Berlage's practice focuses on general business litigation and appeals, ranging from commercial disputes to bankruptcy, to intellectual property.
Mr. Berlage has extensive experience in trials, arbitrations, mediations, and administrative hearings, including arguments before the Maryland Court of Appeals and the United States Court of Appeals for the Fourth Circuit.
Jan's legal career spans over two decades and encompasses a wide variety of opportunities and experiences that have enriched his practice of law. His multifaceted career has seen him in court representing plaintiffs in wrongful death cases to helping clients resolve real estate and animal law disputes.
He has secured major jury verdicts and large settlements for both businesses and individuals, including most recently a $1.6 million compensatory damages award for one of his copyright clients and a nearly $1 million settlement for a surviving heir in a wrongful death lawsuit. He has also successfully defended against multi-million dollar claims in both state and federal court.
Upon graduation from law school, Jan served as law clerk to the Honorable E. Stephen Derby, U.S. Bankruptcy Court for the District of Maryland. Prior to private practice, Mr. Berlage obtained invaluable experience first while working as an associate attorney for Day, Berry, and Howard in Connecticut and then for Ballard Spahr LLP in Baltimore, Maryland. He has taught pretrial litigation practice at the University of Maryland School of law, served on the Board of Governors for the Maryland State Bar Association and is a co-author of the book, Maryland Equine Law: A Legal Guide to Horse Ownership and Activities.
He is a fellow of both the American and the Maryland State Bar Foundations, presents regularly at CLE courses, and has chaired numerous committees at both the national and state level. Mr. Berlage is licensed to practice in Pennsylvania, Connecticut, D.C., and New York in addition to Maryland. He regularly acts as local counsel for cases involving out of state clients.
Jan has achieved the highest rating given by AVVO.com, a well known online legal resource that bases its ratings on client reviews and experience.
Secured a $1.6 million compensatory federal jury verdict for a copyright client before the United States District Court for the District of Delaware
Obtained a nearly $1 million settlement for a surviving heir in a wrongful death lawsuit
Successfully represented both the inventors of the AK-47 and M-16 in intellectual property cases
Obtained a plaintiff's verdict for family in week long civil rights jury trial before the United States District Court for the District of Connecticut
Represented inventor in week long trade secret trial before the Delaware Court of Chancery
One of four attorneys involved in Comcast's purchase of assets in Adelphia Communications bankruptcy case
Achieved summary judgment award for defendant in billion dollar insurance coverage lawsuit
Represented creditors' committee in multimillion dollar bankruptcy before the United States Bankruptcy Court for the Southern District of Ohio
Successfully represented electrical cooperative in multimillion dollar litigation before the United States Bankruptcy Court for the Northern District of Texas
Represented a debtor horse racing track before the United States Bankruptcy Court for the District of Maryland
Handled multimillion dollar bankruptcy sale of medical device company to a French based multi-national corporation
Represented indenture trustee in bankruptcy matter involving $100 million+ bond issuances
Successfully litigated on behalf of indenture trustee matter involving a waste-to-energy facility in Florida before the United States Bankruptcy Court for the Southern District of New York
Obtained numerous bankruptcy discharges for individuals
Successfully represented numerous defendants in copyright infringement cases
Obtained $1 million+ judgment for major corporation in corporate theft case
Achieved numerous trademarks and copyright for businesses and individuals in a wide array of industries
MARYLAND FORECLOSURES AND WORKOUTS: Workouts – The Various Tools in the Tool for Working Out Troubled Real Estate Loans, NBI 2014
REAL ESTATE FORECLOSURE: A STEP-BY-STEP WORKSHOP – How Bankruptcy Changes the Landscape, NBI 2013
CHAPTER 7 AND 13 BANKRUPTCY: LINE-BY-LINE Workshop – Consumer Bankruptcy Fundamentals, NBI 2013
CHAPTER 7 BANKRUPTCY, Maryland Volunteer Lawyers Service 2013
NUTS AND BOLTS OF COLLECTION LAW – How to Find Debtors and Their Assets, NBI 2012
ADVANCED COLLECTION STRATEGIES – Pre-Suit Collection Strategies, NBI 2012
CONSUMER BANKRUPTCY: THE BASICS OF CHAPTER 7 AND 13, NBI 2011
BUSINESS CONTRACTS A TO Z – Preparing Contracts with an Eye Towards Litigation, NBI 2011
BANKRUPTCY LITIGATION, NBI 2011
COLLECTION LAW FROM START TO FINISH, NBI 2010
CONSUMER BANKRUPTCY IN MARYLAND, NBI 2010
CHAPTER 7, NBI 2009
ADVANCED COLLECTION STRATEGIES, NBI 2009
CONTRACT PRACTICE FOR MARYLAND PARALEGALS, Halfmoon Seminars 2007
UNDERSTANDING FEDERAL COURTS AND PROCEDURE, Halfmoon Seminars 2006