Ed Haug
New York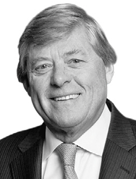 Haug Partners
745 Fifth Avenue, 10th Floor
New York, NY 10151
United States
Tel: +1.212.863.2060

Email:

ehaug@haugpartners.com
Web:

www.haugpartners.com
Mr. Haug has extensive experience in bench and jury trials as well as appellate proceedings having appeared before the U.S. Supreme Court, Court of Appeals for the Federal Circuit and the Second and Fourth Circuits. Mr. Haug has also represented clients involved in proceedings before the U.K. High Court, German Federal Supreme Court and the Tokyo High Court.
In addition to Mr. Haug's activities as the firm's Chairman and a practicing trial attorney, Mr. Haug recently served as President of the Federal Circuit Bar Association ("FCBA") and as a member of the Board of Governors. The FCBA is a national bar association representing approximately 2000 lawyers, judges, and academics practicing before the U.S. Court of Appeals for the Federal Circuit, which sits a short walk away from the firm's Washington DC office. The Federal Circuit hears all appeals of patent cases in the U.S. and offers a forum for common concerns and dialogue between the private bar, corporations, government employees and the Court. Mr. Haug is a frequent lecturer throughout the world regarding all aspects of trial advocacy with a frequent focus on IP matters.
At Haug Partners, we regularly handle high profile appeals before federal and state courts, including more than one hundred Federal Circuit appeals.
We recognize that successful appellate advocacy requires strong writing skills, thorough knowledge of appellate procedure, and a robust foundational record. With an eye to the future, we embed each litigation team with experienced appellate attorneys who can identify and resolve potential appellate issues before they arise.
Haug Partners is widely recognized for its Federal Circuit appellate practice, particularly in the pharmaceutical and biotech industries. Our attorneys understand the complex interplay between facts, technology, and law in patent appeals. Many of Haug Partners' attorneys and advisors hold advanced degrees in specialized technical fields, and have diverse legal experience. Our attorneys also pride themselves on their pro bono work on behalf of veterans pursuing benefits appeals before the Court of Appeals for Veterans Claims . This experience renders Haug Partners is well-equipped to handle all manner of appeals, at both the state and federal levels.
For 20 years, Haug Partners has provided synthesized multidisciplinary legal services for life science and technology businesses.
We deliver added value to our clients by assembling a multidisciplinary team tailored to each client's needs that thoroughly analyzes a matter, develops a comprehensive legal strategy, and then delivers an integrated solution. Our services include: antitrust litigation and counseling; commercial litigation and strategic counseling; due diligence; FDA compliance and counseling; intellectual property enforcement; intellectual property procurement and strategy; international trade commission actions; investigations, compliance, and risk mitigation services; licensing and transactions; and trademarks & unfair competition.
Haug Partners' New York office is home to our state-of-the-art litigation suite, which features a fully functioning mock courtroom, war rooms, conference space, witness-preparation rooms, and document/duplication services. Our Washington, DC office offers quick access to the Court of Appeals for the Federal Circuit; the U.S. Patent and Trademark Office; the U.S. International Trade Commission; the Department of Justice; the Federal Trade Commission; the Food and Drug Administration; and federal district courts in the District of Columbia, Maryland, and Virginia. Haug Partners' Boston office is located at One Post Square, and is within walking distance to South Station, the Seaport, Boston's courthouses, and the Red Line to Cambridge. Haug Partners has also developed and maintains close working partnerships with firms in Germany, China, and Japan, enabling our attorneys to counsel clients in an increasingly global marketplace.
Haug Partners' strength resides in its people. We have attorneys and advisors with advanced degrees in specialized technical fields and extensive industry experience.