Cynthia M. Filipovich
Michigan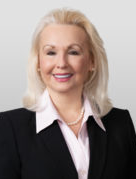 Clark Hill PLC
500 Woodward Ave
Detroit, MI 48226
United States
Tel: +1 313.965.8373

Email:

cfilipovich@clarkhill.com
Web:

www.clarkhill.com
Cynthia, chair of the firm's Appellate Practice, represents clients in both state and federal courts of appeals nationwide, where she works to secure a trial victory on appeal or turn a trial loss into an appellate win.
Cynthia represents large commercial entities on appeal in complex cases involving international automotive litigation, forklift products liability, asbestos litigation, international products liability, banking and mortgage disputes, and intellectual property matters. Her practice also includes trial litigation, including complex commercial litigation, and products liability disputes.
Cynthia was a judicial law clerk to the Honorable Eric L. Clay of the United States Court of Appeals for the Sixth Circuit prior to entering private practice at Clark Hill. She practiced as a registered pharmacist and was director of pharmacy services at a local hospital for several years prior to entering law school.
Cynthia serves as co-chair of Clark Hill BOLD – Detroit, the firm's strategy to promote women within the firm, the legal profession, and the business community.
Experience matters, especially on appeal. For nearly a century, Clark Hill's appellate practitioners have provided in-depth counsel and skilled advocacy when the stakes of litigation are high. From pre-litigation case assessment through appellate representation in the highest state and federal courts nationwide, our appellate lawyers bring a wide range and depth of experience to serve our clients' litigation needs.
Our appellate team enhances clients' success and brings efficiency to litigation. In addition to handling appeals of cases litigated by our firm's lawyers, we regularly take ownership of or assist with appeals in cases handled by other firms, consult on trials and appeals being handled by other firms, advise multi-firm joint defense groups, prepare "friend of the court" briefs in important cases, and assist with post-trial mediation and other settlement activities.
Our appellate services are provided in a cost-effective and collaborative manner—not duplicative—of the efforts of trial lawyers. Alternative fee arrangements such as flat fees and mixed fees may be available.
Our appellate team benefit from our unique and proprietary SERT!™ appellate case-management system. SERT!™ tracks every appellate matter in the firm, allowing all of our attorneys and staff immediate access to past or current similar cases handled in the firm, intelligence regarding courts and judges, and other vital information. SERT!™ enhances the impact of our services while eliminating unnecessary effort and fees.
Current members of our appellate section have briefed and argued cases in appellate courts across the country, including the U.S. Supreme Court, every federal circuit court of appeals, and numerous state supreme courts and intermediate appellate courts.
At Clark Hill, our value proposition is simple. We offer our clients an exceptional team, dedicated to the delivery of outstanding service. We recruit and develop talented individuals and empower them to contribute to our rich diversity of legal and industry experience.
With locations spanning across the United States, Ireland, and Mexico, we work in agile, collaborative teams, partnering with our clients to help them reach and exceed their business goals.