Adam J. Tragone
Pennsylvania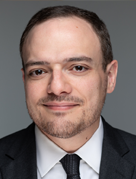 Strassburger McKenna Gutnick & Gefsky
Four Gateway Center, Suite 2200
444 Liberty Avenue
Pittsburgh, PA 15222
Tel: (412) 281-5423

Email:

atragone@smgglaw.com
Web:

www.smgglaw.com
Adam J. Tragone came to Strassburger McKenna Gutnick & Gefsky in 2019. His practice focuses on appellate, constitutional, and commercial litigation. Mr. Tragone has represented clients in matters involving complex contractual disputes, class actions, insurance coverage litigation, and constitutional civil rights.
Mr. Tragone represents a broad array of clients throughout Pennsylvania state courts, as well as federal courts around the country. Recently, he successfully argued the reversal of a Pennsylvania court order barring the media's First Amendment right to access a multi-day mass shooting jury trial on behalf of a national media outlet. He also represented an international commercial insurer in a multimillion-dollar appeal of coverage dispute against a materials manufacturer in the United States Court of Appeals for the Third Circuit.
Along with extensive appellate practice, Mr. Tragone has assisted in high-stakes trials in both state and federal courts, including representing an international commercial insurer in an declaratory judgment action against a national railroad company in United States District Court of Nebraska, representing a regional financial services firm in ERISA litigation in United States District Court for Northern District of Ohio, and providing a defense for a national traffic control company for claims under the National Labor Relations Act in the United States District Court for the Southern District of Indiana.
He has provided political commentary for national television and radio programs and served as director of external relations for Young America's Foundation, a principal conservative outreach organization for high school and college students.
Mr. Tragone serves as a coach of Duquesne University School of Law's nationally recognized Appellate Moot Court Program, assisting students with oral and written advocacy in national and regional competitions on novel constitutional issues, including freedom of speech, religious liberty, and campaign finance.
Education:
J.D., Duquesne University School of Law

Executive Editor, Duquesne Law Review

Federal Litigation and Appeals Clinic

B.A., Politics and History, Juniata College
Most cases end when a trial comes to a close or the judge rules on a dispositive motion, but history has shown there are instances where laws have been wrongly applied or a tribunal has made a clear factual or legal error. Strassburger McKenna Gutnick & Gefsky helps its clients appeal decisions in a variety of venues to ensure their case was properly decided by a lower court, agency, or arbitration panel and any errors that justify relief are rectified.
SMGG appellate attorneys typically get involved at the trial level in order to identify appealable issues and ensure our trial lawyers create a solid case that will effectively support the client's position in the event of an appeal. Once the appeal has been filed, our appellate attorneys then conduct research, review the record, draft and respond to appellate briefs, and present oral argument.
Our appellate attorneys have briefed and argued appeals in all Pennsylvania and many federal appellate courts. We have also briefed and won appeals in the Supreme Court of Pennsylvania and the U.S. Court of Appeals for the Third Circuit.
Our attorneys are up-to-date on the various appellate rules and court procedures and are skilled in developing arguments that address the purpose of the law, how it might be interpreted, and how it should be applied, as well as whether it has been applied correctly given the case at hand.
For nearly a century, the seasoned attorneys at Strassburger McKenna Gutnick & Gefsky have protected the interests of businesses and private individuals. Our all-encompassing approach to the law ensures that our clients' legal needs are fully met.
SMGG was built from Strassburger McKenna Gutnick & Potter, and Gefsky and Lehman — two established and well-respected firms in Pittsburgh. From our inception, we have understood that relationships built on mutual trust and respect are the backbone of our success.
SMGG has earned a reputation for being fearless in the pursuit of justice for our clients. Our team handles high-profile cases with discretion, and has a reputation for taking cases that others might consider too challenging.
Unlike most other regional law firms of comparable size, not only do we handle complex business disputes and transactions, we also handle highly sophisticated personal service matters including criminal defense work, real estate and estates and trusts. In this way, we strive to help our clients deal with any legal challenge they might meet.